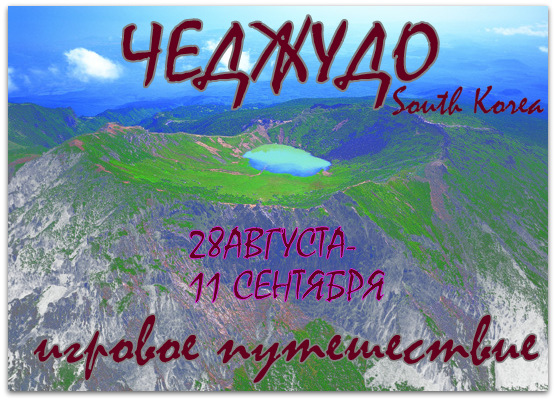 The new project of the Oasis of Awakening Game Travel appeared a few years ago, as the International project: link International projects No. 3 and No. 4 of "Awakening oasis". ссылка Международные проекты №3 и №4 «Оазиса пробуждения».
Today, Game Travel belong to final form of education in Lila's Academy.

Earlier it was already reported about in what countries will pass Game Travel:

link: Game travel of 2014 ссылка: Игровые путешествия 2014г.
Peru ****

India ***
Thailand **
South Korea *
On degree of complexity of the program of routes, decrease by quantity of asterisks.
The first Game Travel took place in SEOUL (South Korea) in November, 2014.

There were some assumptions when and where will pass the Second Game Travel, and here at last the Consciousness sends exact information on this DRAW of force.

So, the second Game Travel will take place in South Korea again and will take place in Seoul and on Jeju Island from August 28 to September 11.

The second Game Travel there will pass in a form 15 of a day retrit "The secret of Great transition".
Great transition of the master is carried out at the end of life,
when there comes time to leave this world, and only units
from them pass it, remaining in this world.
The acting players of Leela Academy of level can take part in this retrit:

missionary and shapeless player
(it is possible as "exception to the rules" and soldiers).
In the second Game travel the group 8 (at most 12 people) of people is gathered.

Selections on these games begin right after the publication of this announcement.

From all submitted applications for GAME TRAVEL it will be selected 8 (at most 12) players.

The second Game Travel is a dynamic form of a retrit when players need to apply all skills in operation, directly in events.

Program of a retrit:
It is extremely saturated and will comprise two test moments. One will be connected with experience of fear of death, and the second will be connected with overcoming.
Participants will also adjoin to surprising influence of power of the island and with its unique, curative force. The consciousness already started preparation of all necessary scenery:)
Selection conditions.
Presentation of personal force:
Requirements:

All will be important to approach the selected players a retrit in optimum PLAYFUL way.
English.
To have the existing international passport within 6 months from the moment of crossing of border.
The status in game: level missionary / shapeless player.
Fifteen days on a trip.
Appliances.
Approximately the budget of a trip makes
$1748,1 (together with food, accommodation, all expenses on trips, excursions and transport) (it is necessary to show by August, 2015)
+ air tickets (VVO / (Knabarovsk) - Seoul - 18555rub,
Seoul - JeJu (Island) - from $70 to $300) (the cost of tickets is specified on the date of a release of the announcement and can change towards increase every day). (The sums on air tickets will be necessary at once after application for purchase on optimum tariffs)
Players will receive more detailed description of expenses at the 2nd stage of selections.
The program of a retrit is painted on days. Players will receive the program on 3 I eat a stage of selections.
So, the first stage of selection is connected with application.
If you have a status in the game Missionary / Shapeless Player, you can submit the application for the address poi73@mail .ru
If on the demand you receive an affirmative answer, you can start the following stage of selections: To you the instruction will come how to buy air tickets for the specified dates and on the recommended airlines. (tickets already on sale)
PLAY!